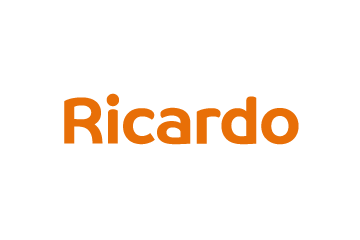 Ricardo was founded in Baar, Switzerland, in 1999. Over the past 20 years, Ricardo has become one of the strongest brands in the Swiss e-commerce landscape. 3.7 million registered members populate the platform and generate more than 5 million transactions each year, turning Ricardo into Switzerland's largest online marketplace.
Multimedia Producer*
80% or more | Zug and remote office
Your new role
As a marketing specialist within our marketing team, the goal of all your efforts is to increase the brand awareness (recognition and recall), steer the brand perception throughout the Ricardo journey - and convince new and existing users to buy and sell idle products on Ricardo. All aspects of communication must fit perfectly within our purpose, values and positioning.

Within your area of responsibility, you are mainly contributing in the fields of managing events, partner projects, media productions, an event website and a simple email-marketing tool.

In this role you are reporting directly to our Head of Communications. Your main activities would be: support the marketing team with the development of a 360° communication plan and establish a third party network to implement media productions and other marketing activities. Moreover, you are managing projects (own tasks and adequate involvement of internal and external stakeholders) with a project management tool (Asana). Finally, you ensure tasks related to logistics, event set-up, advertising (BTL measures), permits (event & media production), cost control and analyzes/reportings are implemented on time.
This job is for you if
You have an eye for good design and an ear for good language (in English and German, French is a plus)
You are naturally eager to improve every day and have a strong desire for creativity and new ideas
You enjoy working with different stakeholders across several functions
You possess a degree as "Mediamatiker*in EFZ, a degree in multimedia production or equivalent education/in depth-experience
You bring first experience in the conception, design and implementation of visual, digital projects (storytelling, production, distribution)
You additionally bring first experience in website development and maintenance with Wordpress (or similar) and CRM email marketing with Mailchimp (or similar)
You ideally have knowledge of legal needs and processes in relation to corporate content production
You possess strong project management skills and are able to steer agencies and partners
You are well-structured and efficient with a problem solving approach
You declare yourself as "hands-on", if you are assertive and have a persuasive appearance
You love a working in a team with a large degree of personal responsibility, motivation, flexibility and collaborative mindset
About us
At Ricardo we are driving meaningful and sustainable consumption - everyday and for the many - by giving idle things, secondhand articles and collectibles a new home and making them appealing. We do this through the most trusted, convenient and - with more than 4 million members - the largest online marketplace in Switzerland.
A team of more than 100 people from 26 nations based in different locations (Switzerland, France, Serbia) works to ensure that Ricardo remains an exceptional product - and one that is firmly established and popular among the Swiss.
Company culture
We are passionate about what we do, and eager to develop innovative solutions for our users - convinced that it's best to move forward as a team. Thanks to our agile working methods, we are able to focus dynamically to changing customer needs.
What we offer:
You are involved in the development of one of the biggest Swiss consumer brands with a sustainable mission. You would be part of a multicultural, self-motivated and highly driven working environment (main language is English). The team consists of marketing experts with a mission to innovate and implement state of the art marketing activities.
Our offices are centrally located in Zug near the main station (once we are allowed to return). Our team has the option to work remotely or from the office in Zurich with flexible working hours and is equipped with state-of-the-art devices.
Moreover, you will benefit from an attractive social benefits package, various discounts and you will be able to use Publibike all over Switzerland for free.
Could we raise your interest? We are looking forward to hearing from you! Please apply with CV, references and a motivational letter. Es dürfen auch deutschsprachige Bewerbungen eingereicht werden;-)
Check here if you are "orange" enough for Ricardo:
Working at Ricardo
Location
Zug
We look forward to your application
Martin Zwahlen
Recruiter
Apply online

We do not accept unsolicited applications from third - party agencies.