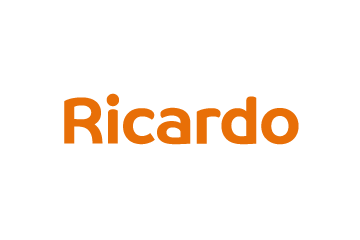 Ricardo was founded in Baar, Switzerland, in 1999. Over the past 20 years, Ricardo has become one of the strongest brands in the Swiss e-commerce landscape. 3.7 million registered members populate the platform and generate more than 5 million transactions each year, turning Ricardo into Switzerland's largest online marketplace.
(Senior) Product UX Designer (f/m/d) 80-100%
Here at Ricardo, we love User Experience Design! We work for our customers and are building new exciting experiences for them. Because of this, we are expanding our Product Design Team.

We are looking for a (Senior) Product UX Designer. And it doesn't include design only! We really care about delivering an amazing user experience. Therefore we expect our team members to make sure we gain enough user insights and validate the designs with our customers as well. We are responsible for delivering the best user experience end to end. We also have great resources that support with professional user research that you will collaborate with.

You will be part of a challenging journey creating new awesome products for web and mobile use. Your key goal will be to design the greatest user centered and easy experiences across digital devices.

This is a varied role which requires a mix of customer focus, creative talent, process understanding, hunger and passion. You will work in close collaboration with cross functional disciplines bringing our product to the next level. You will have the opportunity to learn and grow from a very talented and dynamic international team.
What we hope to find in your profile:
Experience of UX design (web and app) in a commercial environment
Strong exposure to all aspects of the UX spectrum - user research, information architecture, user testing, A/B testing, design system
Skilled in creating fast prototypes (in Figma or a similar tools)
In-tune with current design trends in digital, web as well as app
Keen to understand the real user problems (have a user mindset, create user journeys, identify use cases and edge cases)
Drive decision making with the user's point-of-view while understanding how to drive company value
Strong communicator with the team and other stakeholders in English
Great team player qualities - transparent, collaborative attitude
Experienced working close with engineers and understanding possibilities and constraints
A passion for online marketplaces
Resourceful and independent – can work to deadlines and standards with a minimum of supervision
Experience with conversion rate optimization is a plus
What is in it for you?
Working in an organization that truly believes in the value of great User Experience
Great flexibility of how you want to work - in our beautiful and dynamic office in Zug or Zürich or remote from home. In normal circumstances we are always flexible, only when we have some team events we expect people to be available. However, due to COVID we are still mostly working from home, but for those who want the office is still open.
A highly motivated product team that strives to make a mindblowing user experience
A lot of responsibility, an independent work organization, great freedom for your own ideas
Insight into the versatility of the rapidly growing eCommerce industry
Great employee culture where professionalism is very well combined with fun and joy
(Swiss-) German or Italian class for those who want to develop their language skills
Location
Zurich or Zug
We look forward to your application
Martin Zwahlen
Recruiter
Apply online

We do not accept unsolicited applications from third - party agencies.