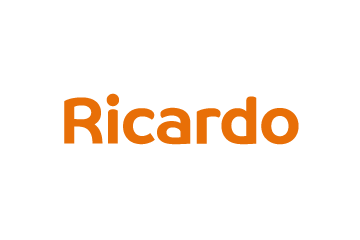 Data / Machine Learning Engineer (f/m) 80-100%
Ricardo is the largest online marketplace in Switzerland with over 1 million listed items and more than 3 million users. If you enjoy solving problems and are creative in the solutions you bring to problems, then you will enjoy working with us.
We are currently looking for a talented data and machine learning engineer to join our Data Intelligence team. Working with a team of business analysts, data engineers, and data scientists you will shape the usage of data and support data-driven decision-making across the whole company.
With your technical and machine learning oriented profile, you will bring your expertise to our platforms by e.g rolling out recommendation algorithms to production, improving search algorithms, optimising our picture and text classification algorithms, or enhancing our fraud detection processes.
What you will do:
Work closely with our data engineers and IT teams to bring models to production (developing "smart" cloud-based data services) ensuring their scalability and performance
Build data-ingestion pipelines to collect and process data into our data lake
Further developing our analytical layer and real-time analytics capabilities
Analyze large datasets using data science techniques utilizing our Google Cloud data lake
Build statistical models to optimize customer experience or internal processes
What we look for:
5+ years experience of data engineering (ideally in a cloud-based environment)
Significant experience with managing the complete lifecycle of a model from exploration to monitoring
Significant experience working with large volumes of data and/or complex data models
Experience with working and developing data platforms in a cloud environment (Google Cloud is a plus)
Strong programming (Python or Java, TensorFlow, SQL) and analytical skills
Ability to work well across different teams and to deal with ambiguity
Attention to detail in complex environments
Capable of investigating, familiarizing, and mastering new data sets quickly
Working knowledge of kanban, agile, scrum, continuous delivery and deployment
Fluency in English, German is a plus
Experience with Kubeflow, Apache Kafka, Apache Airflow, or Apache Beam is a plus
What we offer:
Opportunity to grow in a market leading company with a very strong local brand
An exciting, dynamic and multicultural working environment
A young, open-minded and motivated team
A lot of room for taking the initiative and making a big impact on results
A well-established Swiss shareholder offering an extensive network and various opportunities within the group portfolio
A highly attractive workplace located in Zug, with high quality of living, low tax rates and superb infrastructure
Location
Zug
We look forward to your application
Nevena Stankovic
Talent Acquisition Specialist
Apply online

We do not accept unsolicited applications from third - party agencies.