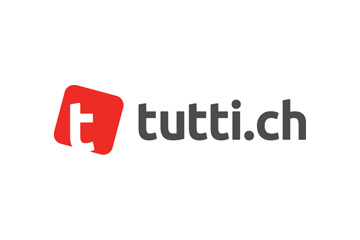 With more than 2 million listings and 4 million users each month, tutti.ch is the leading online classifieds platform in Switzerland, empowering everyone to buy and sell pretty much anything - free, easy and local. It was launched in 2010 by the Norwegian media house Schibsted and acquired by the Swiss media group TX Group (formerly known as Tamedia) in 2015. Together with Ricardo, Homegate and CarForYou, tutti.ch is part of TX Markets, a subsidiary of the TX Group.

We're looking to expand our team with a smart, talented and dedicated
Chief Product Officer 80 - 100% (f/m)
Are you passionate about making great products that enrich and improve people's lives? Have you overcome the odds more than once in your personal and professional life? If you can answer those questions with a resounding yes, then read on, the person we're describing might be you.
As our CPO, you own the overall product strategy for tutti.ch
You have a crystal clear product vision, managing the product roadmap based on data, sound reasoning and the needs of a wide range of stakeholders including ­users, advertising clients, external providers, fellow employees, board members and others
Your prioritisation and goal setting skills set you apart and you know when to say no
You deliver high quality products efficiently by defining and optimising internal processes and working closely with other teams within tutti.ch and the TX Group.
With several years of inspirational leadership experience under your belt, you understand that your achievements rely on your ability to inspire your team, consisting of hard hitting Product Managers, UX Researchers and Product Designers.
You know how to listen to others, consider different points of view and make the tough calls no one else wants to make.
You have a strong track record of shipping high class digital products, with proven technical project management skills and experience in agile development environments.
Finally, as a member of the management team, you play an important part in developing tutti.ch's strategy and organizational structure.
What we look for in a CPO
You enjoy an entrepreneurial work setting and fast-paced product cycles. Because no two days are ever the same, you may find yourself working on a number of projects at any given time. We're looking for people who thrive in these situations and aren't scared of long to-do lists. Above all else, we value proactivity, enthusiasm, reliability, intelligence and the right attitude to get stuff done.
You also bring excellent writing skills and a good command of English; German (or any other Swiss language) would be advantageous, and be prepared to learn snippets of Catalan, Hebrew, Lithuanian, Portuguese, Serbian, Dutch, Romanian or any of the 19 languages spoken in our team during and after work hours.
We offer
a competitive salary
a work from anywhere policy next to a great office in the heart of Zurich with a free flow of fresh fruit and numerous other benefits
last but not least, you'll have the chance to work on one of the largest and fastest-growing online ventures in Switzerland which truly makes a difference in many Swiss people's lives
If you're interested please apply and send us your CV in English, and a short cover letter explaining why you're the right fit for this position.
Location
Zürich
We look forward to your application
Seda Alan
HR Recruiter
Apply online

We do not accept unsolicited applications from third - party agencies.